Welcome to Civil Engineering
Welcome to Civil Engineering Department at the Theem College of Engineering. Civil Engineering is a professional engineering discipline that deals with the design, construction and maintenance of the physical and naturally built environment, including works such as bridges, roads, canals dams and buildings.
More Info...
Vision
To Create standard quality in the profession of civil Engineering with technical skills to serve the Society & Nation.
Mission
1. Provide quality and value based education in Civil Engineering to enhance technical skills to raise satisfaction of all stake holders.
2. Provide a congenial learning atmosphere and ambition, thereby enabling students to reach their target.
3. Provide technically sound professionals to work globally & solve the problems of society and nation.
4. Bring up Professional ethics in students.
A graduate of Civil engineering program will be able to: PO1. Apply the knowledge of engineering, science and mathematics for solving problems in all areas of civil engineering.
PO2. Understand and analyze civil engineering problems and to reach a suitable conclusion by using basic principle of mathematics, science and civil engineering fundamentals.
PO3. Develop solutions for civil engineering problems and design a competent system or process that reach the particular requirements considering social and environmental aspects.
PO4. Apply research based knowledge and experiments, analysis and interpretation of data and reach a valid conclusion.
PO5. Use and apply advance civil engineering equipments and modern techniques including prediction and modeling to complex engineering activities with understanding of limitations.
PO6. Apply logical thinking to assess societal, health, safety, legal and cultural issues and the consequent responsibilities relevant to the civil engineering practice.
PO7. Able to understand the effect of civil engineering solution to the society and practice the sustainable development through knowledge obtained from civil engineering studies.
PO8. Apply ethical principle and professional ethics, responsibilities and norms of the civil engineering practice.
PO9. Function effectively as an individual, and as a member or a leader in civil engineering projects, multidisciplinary settings and among the technical experts.
PO10. Able to communicate effectively with their peer groups, to write effective reports and prepare documentations, make effective presentation, and follow instructions clearly.
PO11. Understand of management principles and apply them in multidisciplinary environment to manage large construction project.
PO12. Recognize the need for long life learning to face locally & globally challenging environment.
Programme Specific Outcomes
PSO1: Utilize principles, methods and code of practice to Excel in the area of Drawing, designing and analysis related to civil engineering system.
PSO2: Provide sustainable solution to civil engineering problems.
Programme Educational Objectives
1. To ensure that the graduate will have basic knowledge of science and Mathematics.
2. To impart the basic knowledge of Civil Engineering, to contribute the infrastructure development and solve the societal problems.
3. To impart the knowledge of analysis and design using the codes of practice and software tools.
4. To motivate the students for higher studies, and to serve the community as ethical and responsible professional.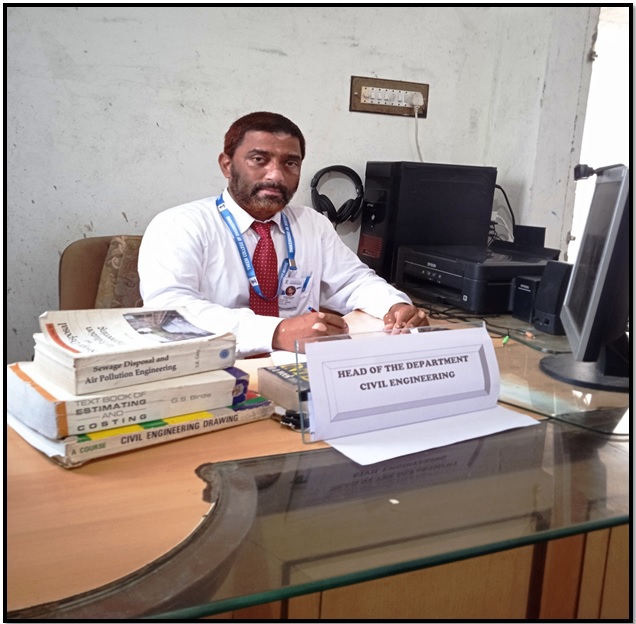 Prof. Zulfiquar Ahmad
HOD, Civil Department
The civil engineering department at Theem college of engineering strives to provide state-of-the-art technical programmes, to its students, to impart quality education through regular class room teaching and guest lectures nurturing the innovative ideas of our students. The department encourages our students to participate in extracurricular and co-curricular activities, in order to provide a self-reliant civil engineer who is capable of keeping up and coping with today's and tomorrow's fast changing high tech structures and systems.
Teaching Staff
Non-Teaching Staff
| | |
| --- | --- |
| Designation: | Lab. Assistant |
| Qualification: | |
| | |
| --- | --- |
| Designation: | Attendant |
| Qualification: | |
Name of the Laboratory Description
Environment Engineering
View Lab
The Civil Engineering environmental lab gives you hands-on access to both conventional and state-of-the-art equipment for the study of the physical, chemical, and biological analysis of water and soil. The lab is used extensively for environmental courses where water and wastewater experiments are performed, including coagulation, solids analysis, metals and ion analysis, adsorption, titrations, oxygen demand, and bacterial culturing.
Concrete Technology
View Lab
The Laboratory is equipped to run standard tests on cement, aggregates, and concrete. The laboratory is operated as both a teaching and research facility. Equipment is available to test concrete aggregate for deleterious behavior, including alkali silica reactivity, and to measure aggregate properties as they affect mixture proportioning.
Survey
View Lab
Our surveying lab offers supplemental experience in fundamental land surveying measurement methods for surveying courses, including precision steel taping methods to perform horizontal measurements, traditional transits and digital theodolites to perform angular measurements, and traditional and automatic levels for elevation measurements. In addition, students have opportunity to use total station equipment, which enables horizontal, vertical, and angular measurements to be made in one operation.
Transportation Engineering
View Lab
The Center for Advanced Transportation Technology Laboratory was established in 2015 as a research and development lab to support national, state, and local important transportation problems.
Geotechnical Engineering
View Lab
The Geotechnical Engineering Laboratory is a modern research facility housing a range of equipment for evaluating soil and rock properties.
Fluid Mechanics
View Lab
This lab is run in conjunction with the theory course & It is an introductory course where flow behaviour, fluid forces and analysis tools are introduced.The lab runs closely with the lectures in such a way that experiments support the text covered in the class room.The goals of the experiments include determination of forces generated when fluid flow takes place over a solid object, applications of the control volume approachIntricate flow phenomena such as separations and transition to turbulence are demonstrated.We also demonstrate the momentum and energy equations, viscosity measurement and engineering correlations.
Geology Engineering
View Lab
This lab provides a hands-on survey of the fundamentals of physical geology. We introduce the identification and interpretation of rocks and minerals. We use topographic maps to analyze and understand a variety of dynamic systems, including rivers, groundwater, glaciers, sea coasts, and deserts. Finally, we examine geologic time, structural geology, geologic maps, and plate tectonics.
Notice Board
| | | | | | | | | | | |
| --- | --- | --- | --- | --- | --- | --- | --- | --- | --- | --- |
| Sem 3 | Applied Mathematics- III | Students will be understand the basic concept of Laplace transform | Students will be able to apply linear transformation and conformal mapping. | Students will evaluate contour integral and solve equation using Fourier integral. | Students will solve initial and B.V.P using ordinary differential equation and will be able to understand the concept of co-relation regression. | | | | | |
| Sem 4 | Applied Mathematics IV | Students use matrix algebra with its specific rules to solve the system of linear equations. | Students understand and apply the concept of probability distribution and sampling theory to engineering problems. | Students apply principles of vector differential and integral calculus to the analysis of engineering problems. | Students identify, formulate and solve engineering problems | | | | | |
| Sem 5 | Geotechnical Engineering- I | Students understand properties of soil and also able to understand interrelationship between soil properties | Students will be able to understand and analyse particle size and plasticity characteristic and also able to classify the soil | Students will learn to calculate phenomenon such as permeability and seepage | Students will understand principle stress and shear strength developed in soil | Students will understand phenomenon such as compaction, consolidation of soil | Students will learn to conduct various methods of investigation and test on soil | | | |
| Sem 6 | Geotechnical Engineering - II | Students understand concept of stability of slope and study various method of evaluating stability of slope. | Students will be able to understand lateral earth pressure theories and method to calculate active and passive earth pressure also able to check stability of retaining structure | Students will be able to calculate bearing capacity to design various footing such as square, rectangle etc. | Students will be able to understand necessity of pile foundation and also able to design and calculate load on pile. | Students able to understand concept of underground conduit and estimation of strut load in braced cut. | Students will understand application of reinforced soil. | | | |
| Sem 7 | Quantity Survey, Estimation & Valuation | Students can read, understand and interpret plans, sections, detailed drawings and specifications for a construction project. To study the various methods of detailed and approximate estimates | Students will be able to emphasize the importance of relevant IS: 1200- 1964 codes and relevant Indian Standard specifications, taking out quantities from the given requirements of the work, and drafting specifications. | Students can conduct a material and labour survey to understand the current market rates for the various materials required for construction and the different categories of labour required. To prepare specifications of various types, prepare specifications for various items as a part of tender documents. Understanding the importance and use of specification. | Students will be able to perform the rate analysis for various items: standard and non-standard and the use of DSR in this process. | Students will be able to study the process of tendering and its various stages, various types of contracts, its suitability and validity as per the Indian Contract Act of 1872 and draft various clauses and conditions of a contract. Will be able to understand the arbitration process. | Students can study assessment of the value of a property with or without structure. Study the Valuation table and formulas for assessing different types of properties. | | | |
| Sem 8 | Design And Drawing Of Reinforced Concrete Structures | Students will understand the complete analysis and design of residential and industrial buildings using relevant IS codes. | Students will understand the complete analysis and design of different types of retaining walls. | Students will understand the complete analysis and design of different types of water tanks using relevant IS codes by working stress method. | Students be well versed with concepts of civil engineering techniques and ability to use it in practice | | | | | |